Sustainable development
It is easy to make a sustainable difference with your ARMOR- IIMAK Thermal Transfer ribbons.
Thermal Transfer Ribbons with environmental benefits
ARMOR-IIMAK partners can respond to market growing concerns with tangible ribbon environmental benefits. By investing in Thermal Transfer ribbon eco-design, ARMOR-IIMAK offers sustainable alternatives, allowing ribbon users to follow their sustainable development concerns.
Thinner PET Thermal Transfer ribbons available in the ARMOR-IIMAK range today :
Thermal Transfer ribbons using less plastics
ARMOR-IIMAK is developing a new generation of ribbons produced on a 4µ PET base film. This represents up to 12% plastic reduction for each roll. For ARMOR-IIMAK, this is not just a change of PET thickness; it is a total redesign of the making processes. But it's clearly worth the effort !
What's the Thermal Transfer environmental benefit?
For an application using 6,000 ribbons per year with a standard roll configuration (110mm x 300m), switching to 4µ based ribbons = 100 kg of plastic saved which corresponds to more than 3000 plastic bottles.
100% solvent free Thermal Transfer ribbons
ARMOR-IIMAK has developed and patented a 100% solvent free industrial process for its Thermal Transfer ribbons: it is called SolFree®. When you select a SolFree product, it has generated 365g less CO2 emissions compared to a similar ribbon made with a traditional production process.
What's the Thermal Transfer environmental benefit?
For an application using 6,000 ribbons per year with a standard roll configuration 110mm x 300m, switching to a SolFree roll corresponds to 2.2 tonnes of CO2 saved, equivalent to a single one way flight between Chicago and Tokyo (10 000km).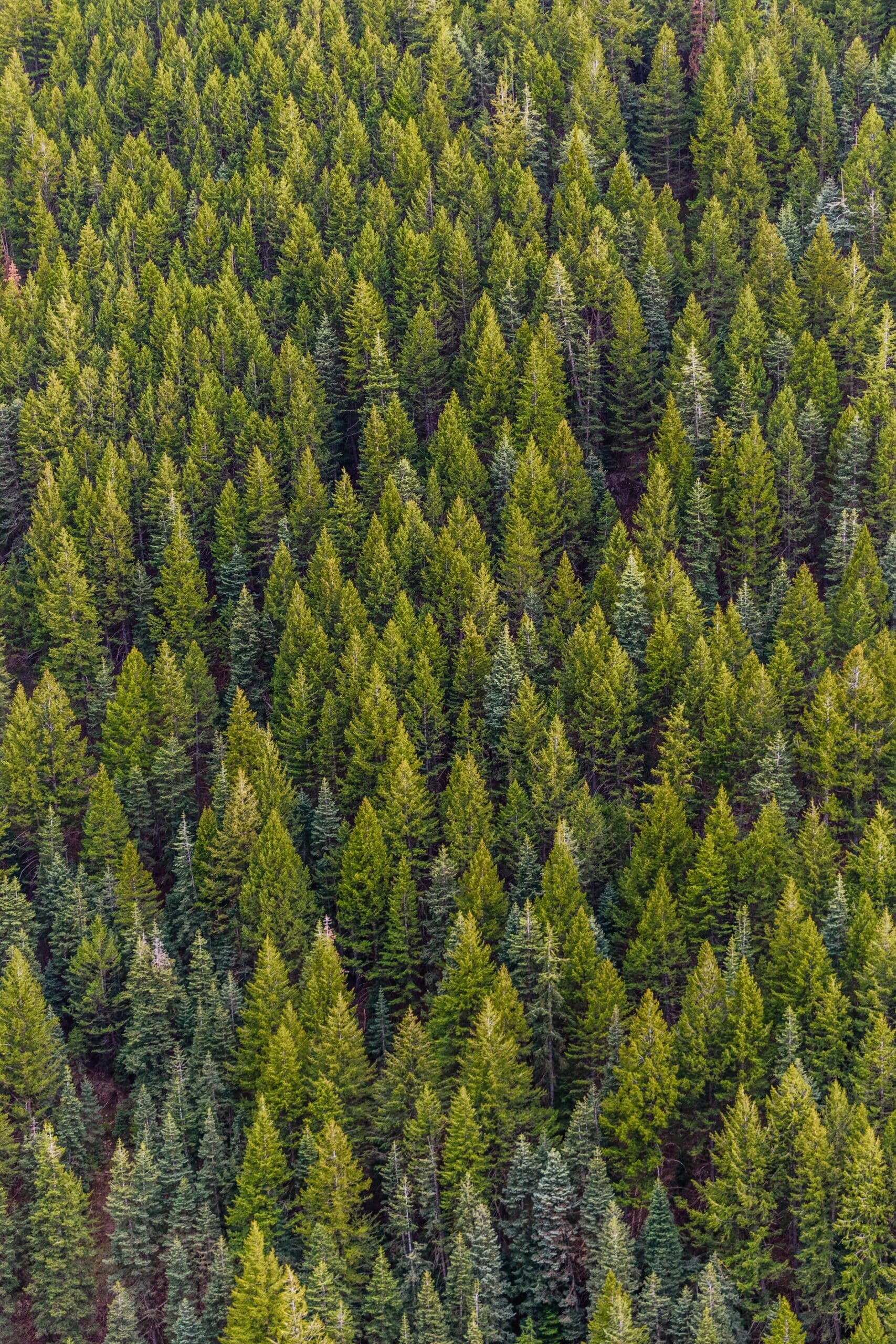 Sustainable cardboard core
100% of the carboard cores used for all inkanto ribbons are sourced from sustainably managed forests. You have the guarantee to use PEFC /FSC certified materials.
Reduce and recover Thermal Transfer waste
ARMOR-IIMAK is determined to reduce the footprint of its products through continuous improvement in production waste management and by finding alternatives for used rolls.
PET production waste
In many industries, consumer or industrial plastic waste are just landfilled or incinerated. Through a true waste management program, ARMOR-IIMAK has minimized the impact of its 13 production sites.
0% landfilled
Thermal Transfer film production wastes have no impact on soil

100% recovered
Depending on local regulations ARMOR-IIMAK film wastes are preferably used as Solid Recovered Fuel (SRF). In some regions, ARMOR-IIMAK films are destroyed through Incineration with Energy Recovery (IER) processes that generates electricity.
Rec'Pet: the ultimate ribbon recovery solution
To respond to the growing concern of companies for their waste management, ARMOR-IIMAK is offering Rec'Pet Partner: a dedicated collection and recovery program for used rolls.
Choosing Rec'Pet Partner enables you to :
Eliminate burial and landfill of ribbons
Encourage circular economy
Anticipate new laws and taxes for plastic waste
Adopt a more sustainable business practice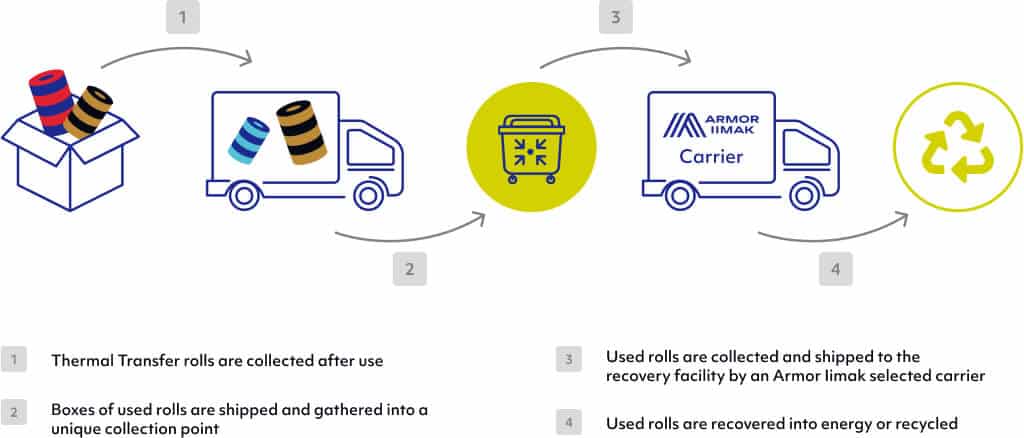 Minimize thermal transfer ribbon manufacturing impact
In order to reduce its carbon footprint ARMOR-IIMAK constantly strives to control the impact of its activities, targeting solutions producing fewer emissions.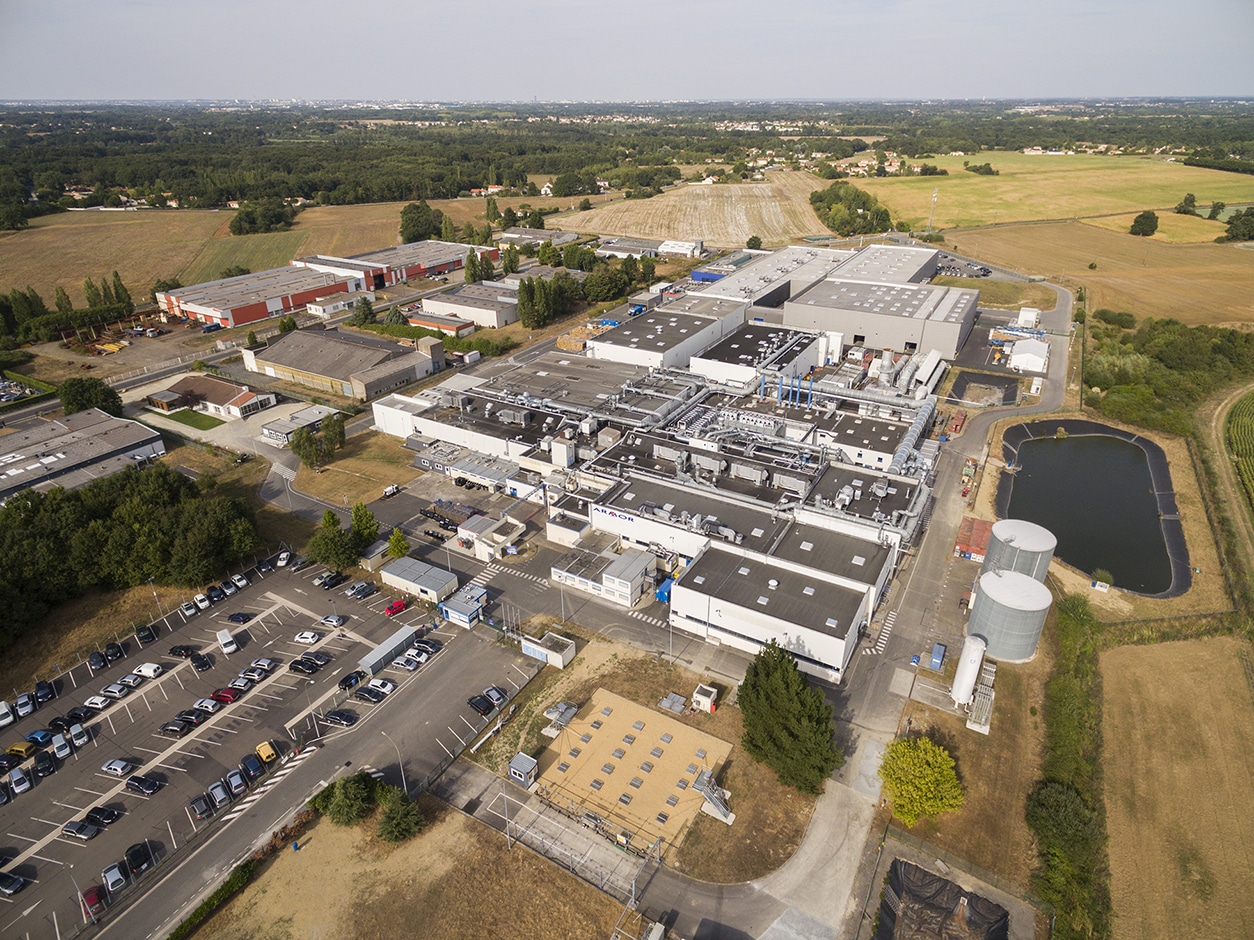 Favor renewable green energies
In most countries where ARMOR-IIMAK has Thermal Transfer production sites, the company selects energy suppliers producing electricity from hydroelectric sources.
ARMOR-IIMAK main manufacturing site in France (95% of total thermal transfer film production)
58% electricity from renewable sources
ARMOR-IIMAK 2nd coating site located in China (5% of total thermal transfer film production)
43% electricity from renewable sources
Reduce and re-use Thermal Transfer solvent
Solvent is a key component used within the manufacturing process of Thermal Transfer ribbons. After the evaporation stage, solvents are collected and treated through two Regenerative Thermal Oxidizers (RTO) to produce thermal energy for the factory enabling reduction of gas and electricity consumption.
91% production solvents recovered into factory energy. Over the last 5 years ARMOR-IIMAK has also reduced the quantity of solvent for each square meter of thermal transfer film produced by 15%.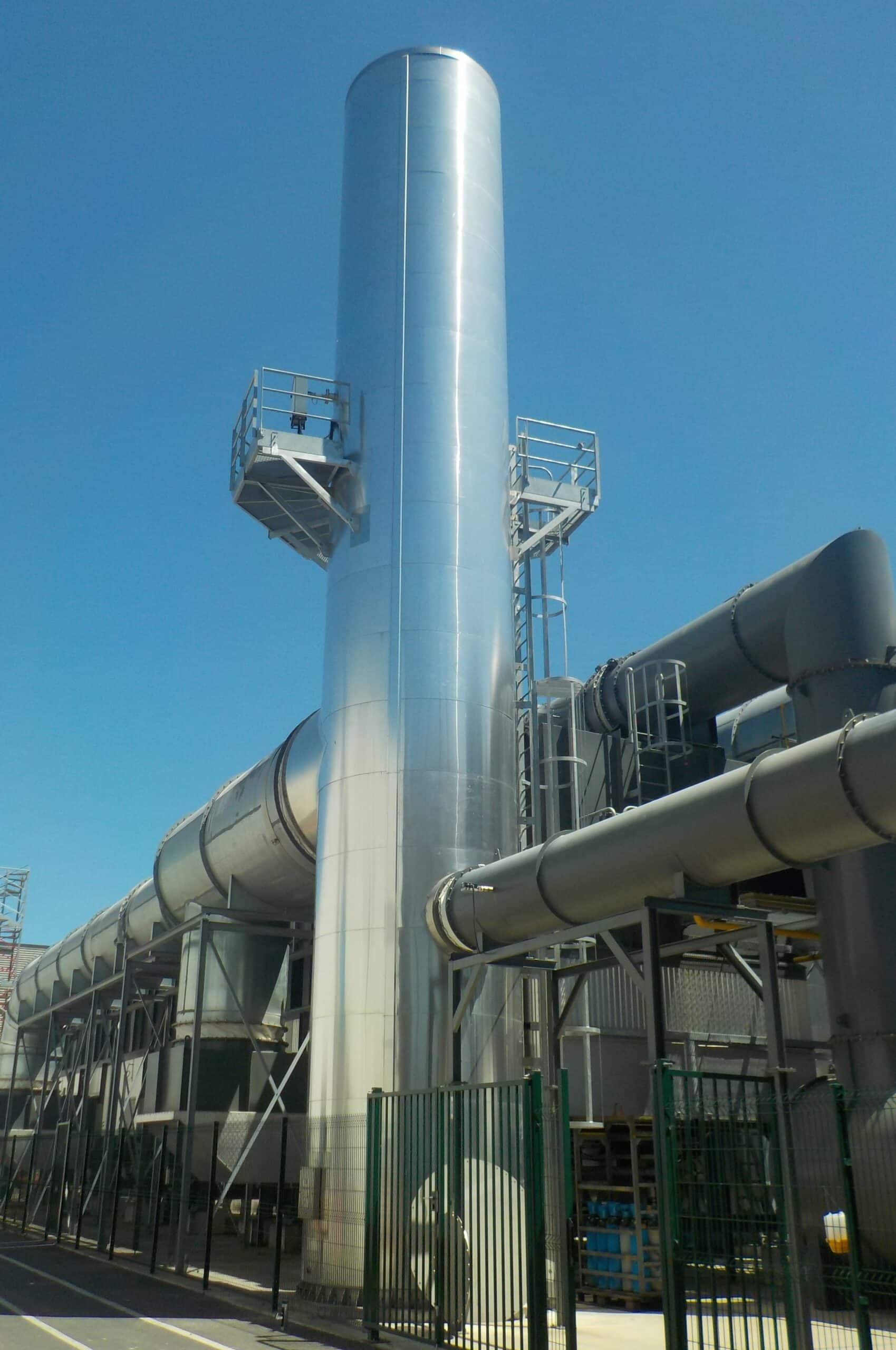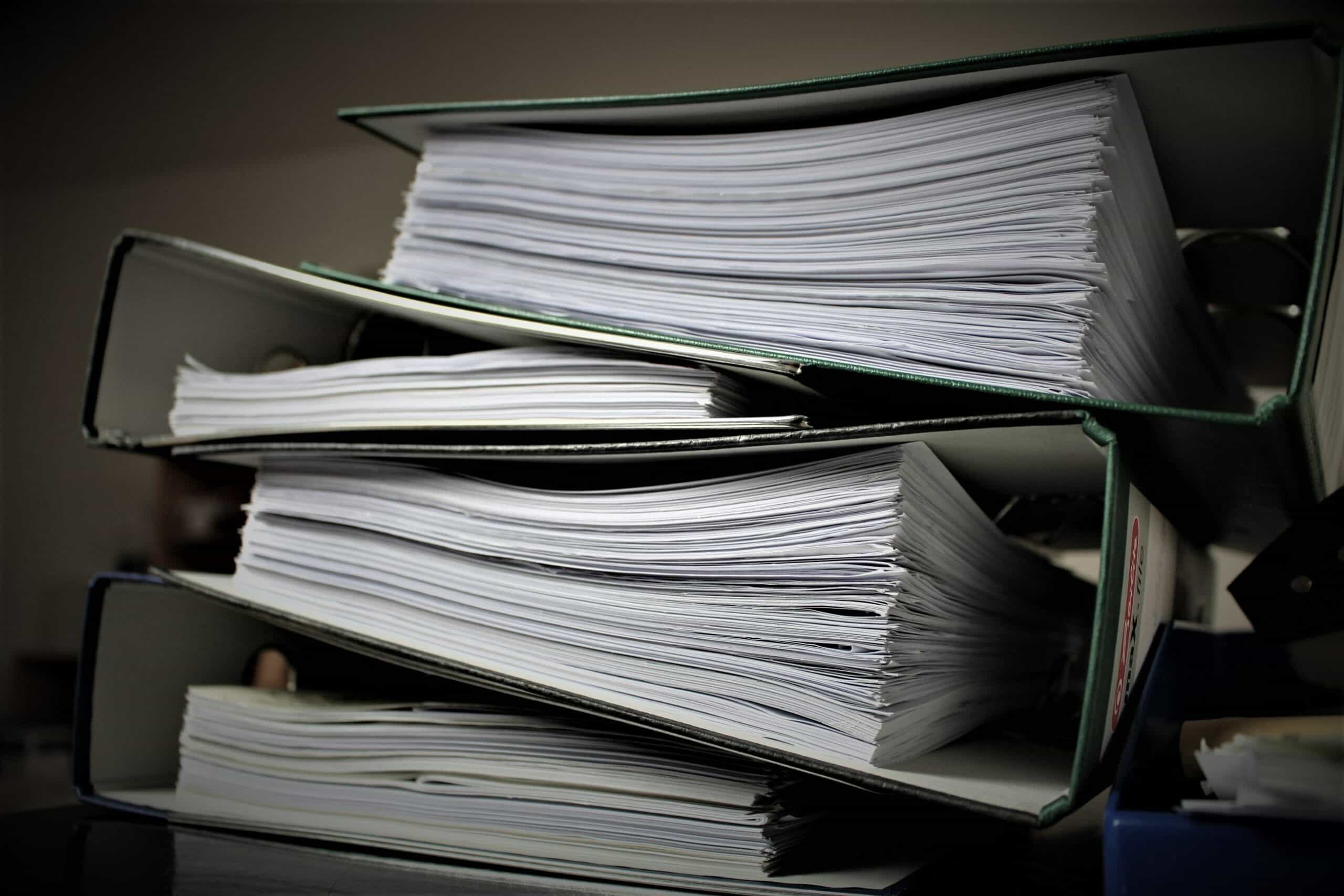 Comply with environmental regulation
ARMOR-IIMAK is committed to produce and market Thermal Transfer ribbons in respect of stringent regulations targeting better environment protection.
REACH – SVHC Free : Using no Substance of Very High Concern
Biocides free : 528/2012/EC
Persistent Organic Pollutants free : 2019/1021/EC
Heavy Metals free : 2011/65/EC
Phenol free : No BPA or BPS
Oeko Tex Standard 100 : Free from harmful substances. Textile Industry AXR TX
Toxic Substances Control Act (TSCA) :Does not contain persistent, bio accumulative and toxic chemicals
Need more information?
Do not hesitate to contact one of our representatives